---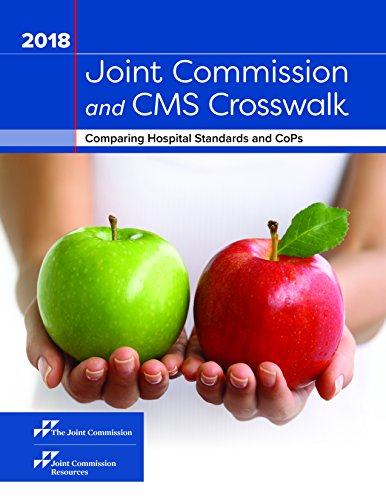 Book
Joint Commission and CMS crosswalk : comparing hospital standards and CoPS
-- 2018 Joint Commission and CMS crosswalk :|bcomparing hospital standards and CoPS
Copies
1 Total copies,
1
Copies are in
,
0
Copies are out
.
The hospital standards have changed significantly in 2017, along with the Medicare crosswalk. The 2018 Joint Commission and CMS Crosswalk: Comparing Hospital Standards and CoPs offers easy access to the full and current language of the Centers for Medicare & Medicaid Services (CMS) hospital Conditions of Participation (CoPs), and demonstrates their equivalency with the Joint Commission s hospital standards. This allows staff to easily see how the two sets of requirements relate. The crosswalks in this guide can help hospital staff identify how policies, procedures, and practices support one or more Joint Commission standards and demonstrate compliance with equivalent CMS regulations. The book's sidebars and tables provide additional information on Joint Commission accreditation for deemed status, CMS-related updates, and how both organizations survey for compliance. Key Topics: Authoritative, side-by-side comparison of Medicare hospital CoPs to Joint Commission standards as of January 1, 2018 Eligibility requirements for Joint Commission hospital accreditation for deemed status Description of deemed status and what that means for a hospital Highlights of all the revisions to CMS regulations, including ongoing changes related to the switch to the 2012 Life Safety Code® Key Features: The only crosswalk of its kind reviewed and approved by The Joint Commission Additional crosswalks comparing special CoPs for psychiatric hospitals to comparable Joint Commission standards A reverse crosswalk listing Joint Commission requirements with comparable CoP numbers, showing equivalencies in the opposite direction Tips to maintain compliance without duplicating effort Convenient reference book format Standards: All hospital standards equivalent to CMS requirements as of January 1, 2018 Settings: Any hospital using Joint Commission accreditation for deemed status purposes, including psychiatric hospitals Key Audience: Accreditation managers Compliance officers Risk managers Quality.
Title
Joint Commission and CMS crosswalk : comparing hospital standards and CoPS -- 2018 Joint Commission and CMS crosswalk :|bcomparing hospital standards and CoPS
Call No
RA965.8 .J656 2019
Published
Oak Brook, IL : Joint Commission Resources, c2018.
Publication Desc
iv, 572 pages : illustrations ;