---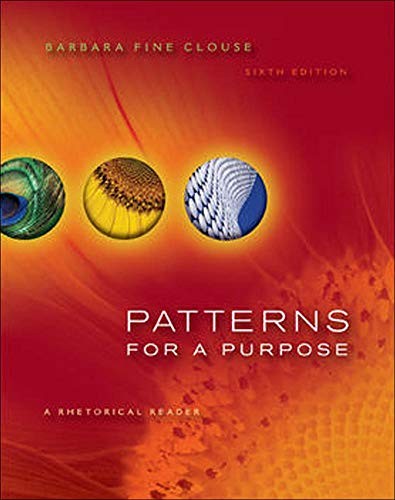 Book
Patterns for a purpose : a rhetorical reader
Copies
2 Total copies,
2
Copies are in
,
0
Copies are out
.
With a diverse selection of readings chosen to serve as both models for and springboards into student discussion and writing, Patterns for a Purpose is a rhetorically-arranged reader that encourages thoughtful use of the rhetorical patterns?either alone or in combination?to achieve various writing purposes. The detailed coverage of the writing process emphasizes the importance of critical reading and thinking, offers a rich variety of writing opportunities - including specific material on argument and persuasion.
Title
Patterns for a purpose : a rhetorical reader
Call No
RES-ENG PE1417 .C6314 2011
Published
New York : McGraw-Hill Higher Education, Ã2011.
Publication Desc
xxvii, 732 pages : illustrations (chiefly color) ;
ISBN
9780073383958
acid-free paper)
Target Audience
Unknown or not specified